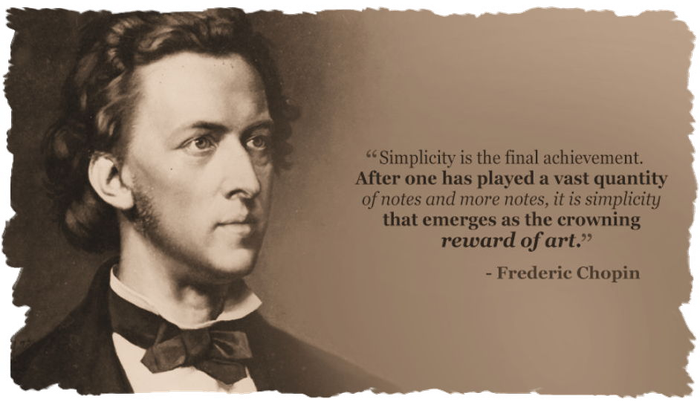 Frédéric Chopin  was probably one of the greatest and most refined pianists in history. His teaching advocated the Mozart tradition of playing in time with the left hand and freely with the right.
Chopin's use of rubato must have been a miracle of subtlety and taste. His elaborate and virtuosic ornamentation is never displayed for its own sake and must always be treated poetically. Chopin's discovery of the piano's potential to inhabit a complete and poetic world of song and color set the standard for all piano writing of the latter part of the century. Only with Debussy, Prokofiev and Bartók do we finally have a departure from Chopin's domination of the medium.
The following 4 links are some of the very view easy to learn Masterpieces of Chopin's complex compositions:
Prelude in B   Op.28 No 11    L6   ZIP 
Prelude in Db, Op.28 No 16 .. L9
Prelude in Ab, Op.28 No 18 .. L10
Prelude in Eb, Op.28 No 20 .. L8
Prelude in Bb, Op.28 No 22 .. L10
Prelude in F, Op.28 No 24 .... L10
Prelude Op.10 No 12 (Revolutionary Etude) ... L12   ZIP .
Waltz in Am, B150, Op. Posth..L3......VIDEO-1-SheetMusic .....   ZIP  MUS  PDF