On this page you can find links to the speakers and microphones and other helpful accessories I am using at my Gig's. (Please report broken links back to me!)
1. Battery powered Speakers
I chose AA-battery powered speakers over built in rechargeable batteries, because I have more control and can replace them anytime I need. Built in batteries, like the Samson Expedition XP106 did not last long enough for my 5-8 hour long events and sometimes I was surprised to find the internal battery discharged without any reason. I am using IKEA LADDA Rechargeable batteries (8 x AA 2450mAp = ~$14), which have the very similar spec's like eneloop pro (8 X AA 2500mAp = ~$33). Both have 500 recharging cycles! And YES, if you have AC available, all of these speakers plug into the wall.
 
The Roland Micro Cube Bass RX Battery-Powered Bass Combo Amp (~$280) is very portable and has a great bass to enhance my play-along tracks. Powered by 6 AA batteries, lasting 6-8 hours makes it ideal for my long performances at Farmers Markets and Art-Festivals where there sometimes is no power available and medium volume is required. I used this speaker many times for weddings in the Sedona Red Rock Country.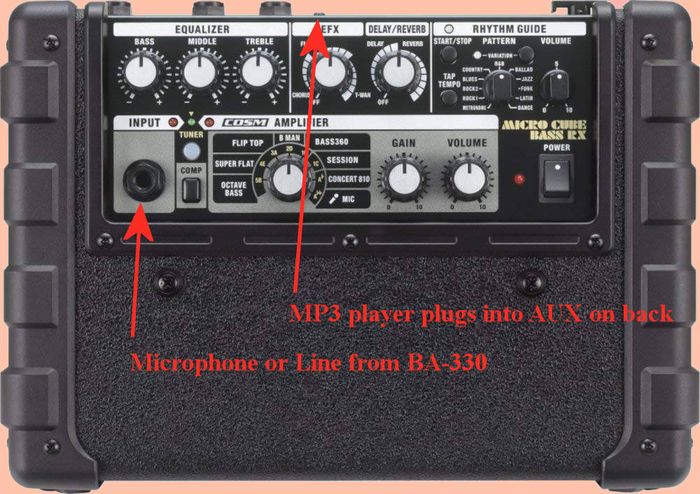 The Roland BA-330 (~$600) is my work horse for most bigger events. I am using this speaker also as mixer and in combination together with my two Roland Micro Cube Bass for completely battery powered set-ups. The BA-330 has a built in reverb and delay which can be enabled or disabled, which comes in handy if you hook up a keyboard and two mic's. I am using the BA-330 also as mixer for my self-powered JBL Eon Speakers on big events and big stages where I have to be loud. See the picture below: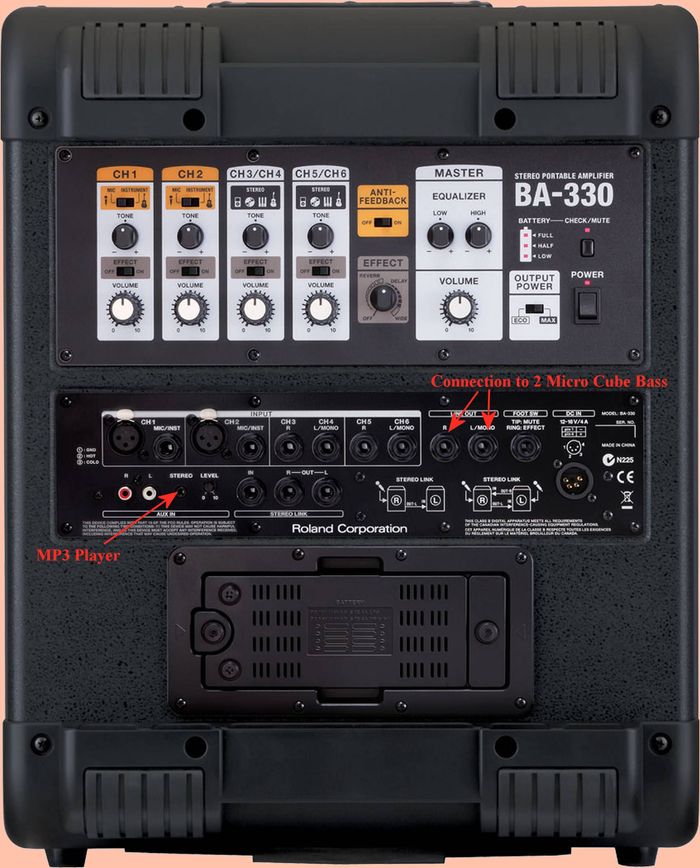 On my Wish-List is the Roland Keyboard Amplifier KC-220 (~$380). If one of my other 3 speakers breaks, I will replace it with the KC-220, which is a crossing between the BA-330 and the Miro Cube Bass and only a hundred dollars more. I researched it extensively, watched many video reviews and think it is a smaller version of the BA-330, worth trying! Here is the back view: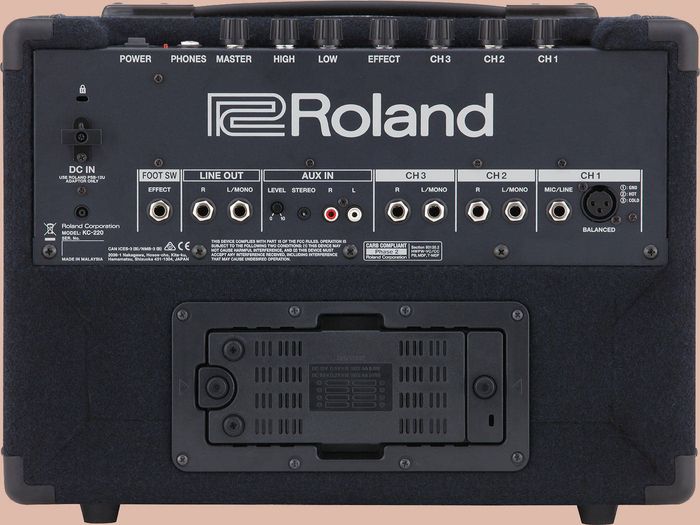 2. Digital Delay:   
 
I am using on stage the Boss DD-7 (~$160) and the Boss DD-3 (~140) as backup. Because they are not cheap I also tried out the Behringer Delays (~$40), but they are very noisy and eat batteries much too fast. There is no quality difference between DD-7 and DD-3, but some more functions:
3. Microphones and Wireless System:   
 
There are 3 clear Microphone recommendations in the order of my choice:
A) Sure SM 58 (~$100) is a classic, stage approved by million users and the simplest solution. You need also a Microphone Stand (~$20) and XLR to 1/4 mono cable (~$15). Just remember that it has to be 1/4 mono for the Digital Delay to work! 
 
B) After using many cheaper wireless systems and having them break down, have channels be occupied or distorted and being unable to perform on them, I chose the Sennheiser ew 112P G4 (~$600, reaches 300 feet) or the newer digital version Sennheiser AVX (~$700, reaches only 100 feet)  which runs on a license-free transmitting frequency in digital and secure encryption. They both have the Omnidirectional Lavalier ME 2 Lavalier Mic (~130) which is included in the package, but it will break after some years.
Replacement parts for Sennheiser ew 112P G4: Replacement for MIC for ME2 is Pro Lavalier Lapel Microphone JK MIC-J 044 (~$30 instead $130). Replacement cable from ew112p receiver to DD-3 Hosa CMP-105 1/4 inch TS to 3.5 mm TRS Mono Interconnect Cable, 5 feet ~$5, instead $45 for original).
 
C) The most affordable Microphone setup is Audio-Technica ATR-3350IS Omnidirectional wired Lavalier Mic (~$30). The mic runs on a LR44 battery, so have some spare batteries with you! It is not the best quality, but works great for live performance and I have one always with me, just in case for back-up. To make it work, you need an 3.5 stereo to 1/4 mono adapter. Just remember that it has to be 1/4 mono for the Digital Delay to work!See picture below:
 
4. Setup Overview: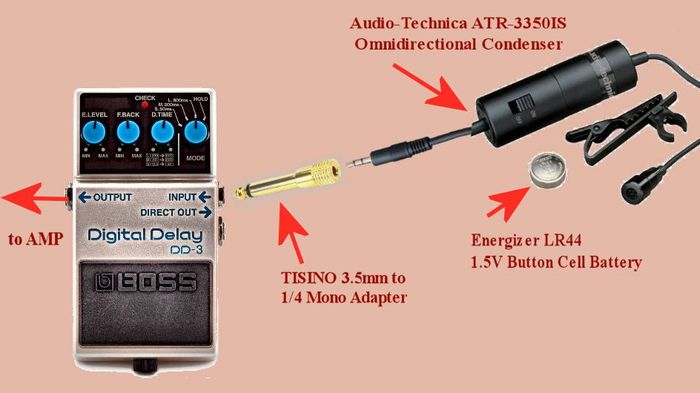 From the DD-7 OUTPUT to the AMP/Speaker you can use an 1/4 instrumental cable in mono or balanced, or a XLR male to 1/4 cable. DD-7 settings are 200 milliseconds or 800 milliseconds.
Disclosure: I am part of the AMAZON affiliate program. All links on my web leading to AMAZON are payed links, that means I will get a minimal Commissions if you buy through this links. (Up today Oct 2019 that was $0.)
As an Amazon Associate I earn from qualifying purchases.